¿How do you create a marketing plan?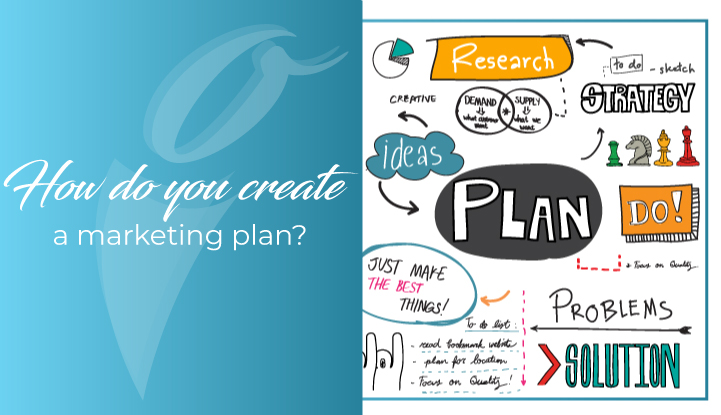 Once you get the feeling that engaging your buyer person is easier and you can see that your current customers are loyal to your services, we can assume that your marketing plan is a success. Now, if that doesn't describe your reality, this article might help you figure out why.
Let's first establish what a marketing plan is: it is what defines the goals and objectives of your company, in order to direct it in the most effective and efficient way possible, through actions and procedures in line with your company's focus. Easy! But how to do it?
Although we will not find the ideal step by step to achieve the perfect marketing plan, we can gather in four aspects what must be done to achieve it.
Analyze
This first step must be carried out conscientiously, observing the company from all existing points of view;
Internally, to know the real state of the company, including its human resources.
In front of your competition, how we see ourselves in front of them and how others see us, quality, prices, fulfillment, etc.
In social networks and digital media, to evaluate the quality of the company's presence and quantify it versus the most relevant and in line with the economic activity of the company.
Objectives
The process of a customer facing your company consists of the customer finding you, being convinced that you are what he needs, acquiring your service or good and then doing his best work, the "voice to voice", this process is known as Customer Journey. Therefore, your company's objectives must be linked to these actions, remembering that they must be measurable, real, achievable and concrete. Keep in mind that some objectives may be too big, but you should not abandon them, to be able to set them divide them into smaller objectives, so they will be much more in line with the capacity of your company and will be able to meet the primary conditions of an objective.
Definition
This step is composed of several actions:
Define what makes you different from others, this will make you focus on what really matters and not have the possibility of digressing, and you will be able to identify it since it is what the customer finds in you, which could not be offered by your competitors.
Define the price of your service or product, remember that not always the lowest price is what makes a customer is inclined to what you offer, also today the customer has the opportunity to compare online prices almost immediately. What is really important is that the economic value of your product or service, is consistent with the qualitative value of the same, when the customer is satisfied with your purchase the price is no longer paramount.
Define your sales channels, remember that these go hand in hand with the capabilities that your company has to provide support and make deliveries to your customers.
Define traffic channels, keep in mind that a person's visit to your website can be totally casual or, of course, planned, so you must consider the three main traffic channels: social, those who come through social networks; organic, visits as a result of search engines; and finally, referral, natural from external websites.
Content
Within this step you will find, among others:
Content marketing, it will help you in the recognition and positioning of your brand.
Branding development, it should be as close as possible to your objectives and be reflected in graphic form, have a logo that fully identifies the company, colors and fonts characteristic of it, and if possible, a slogan.
Finally you must generate the best and most detailed briefing of your company, for this you must delve into the essence of your company, what it is, what it wants, how it wants to be reflected and what it wants to achieve, once this is done the other elements of this step will be easier to develop.
As we said at the beginning, the marketing plan is not defined in a single step by step, since a series of variables and particular characteristics of each business model and the perspective of each manager come into play, what is certain is that to launch into the world of marketing you must establish this plan in one way or another. A world that is very versatile but at the same time conservative in terms of what the customer expects from a service or a product they purchase, they always want the best!
Keep in mind that for your marketing plan to yield the results you expect, it is highly recommended to go hand in hand with a freelance or digital agency, they will make the task easier for you.