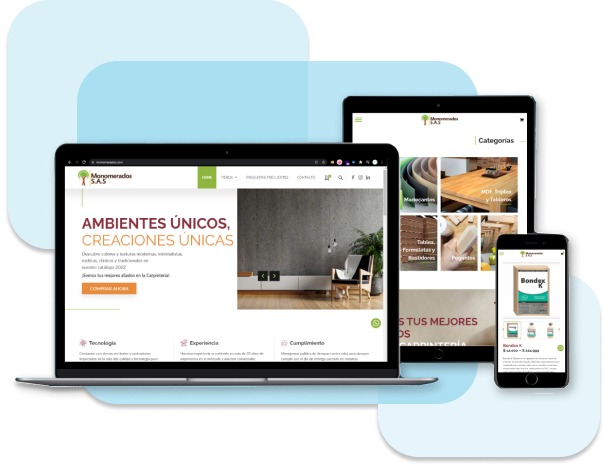 Online presence is essential to the success of your business. That's why we offer freelance web design and development services to suit your needs, whether you need a corporate website, an online store or a customized platform.
Our focus on creative web design and user experience (UX) ensures that your website is impactful and effective.
Online Store
Sell your products without any limit, and reach new customers.
Corporate
Tell your customer what your services are, and why to choose you.
E-learning
Selling a course or workshop is not the same as selling a product.
Landing page
Your best ally for capturing leads or potential customers.
Work with the best freelance web designers and developers in Colombia.
Website design: We create corporate and e-commerce websites that not only look stunning, but are also designed to convert visitors into customers. Our focus on creative and modern design fits your brand identity and brings out the best in your business.
Custom platform development: Our development team uses Angular's powerful technology to create custom platforms that fit your unique needs. Whether you need a web application or a custom software platform, our Angular expertise ensures optimal performance and a seamless experience.
Design freedom: We pride ourselves on working without predefined templates. Every project we take on is unique and deserves a custom design solution that reflects your values and goals. We work with you to bring your ideas to life and ensure that your website or platform has an authentic look and feel.
UX Fundamentals: We know that user experience is critical to online success. Our focus on UX ensures that every interaction on your website or platform is intuitive, efficient and enjoyable. From navigation to content interaction, we ensure that your users have an exceptional experience.
How do we create a
website?
1. Let's get creative:
This is the moment when you let us get to know your company, what are the goals you have for your website, how you would like it to look, and its functionality. With these aspects in mind the freelance web designer and developer will start to work their magic.
2. Brush strokes and tweaks:
We will deliver you a Mock up or sketch of the website, materializing and getting one step closer to what days ago started as a project.
3. Let's get to work:
Now that we have the sketch of the website approved, you must give us the content and our freelance developers will start the creation of your website. For this step you must already have the hosting and the domain, for the visitors that may arrive do not worry, the website will be under construction.
4. Testing:
This part is very important, it is time to put ourselves in the role of auditors and we must review in detail all the content and functionality of the website.
5. Go live:
That's it, we're ready to activate the website and start attracting visitors or generating sales, depending on your case.
Frequently asked questions about
freelance web design
The security certificate or https is a data transfer protocol that, unlike http, encrypts the data in such a way that it travels more securely to the server. For Google the security of the website and especially of the users, is one of the parameters to evaluate for the ranking of the website, so it is considered important for SEO.
The time it takes to develop a Web Site is directly related to the type of Web Site and the amount of content it will have; however, a corporate Web Site can take between 2 and 3 weeks, and an e-commerce Web Site can take from 6 to 10 weeks. These times are contemplated from the moment 0 of the project.
The famous CMS, when you start to venture into the great universe of Digital Marketing you start to hear a lot of terms and names, one of them and very important if we talk about Websites is the CMS.
The CMS is the content management system; that is, it is the system or program that will allow us to manage the content of our Web Site. The most common CMS are WordPress, Magento, Prestashop, Joomla! and Drupal, I will not tell you which one is better than the other because each one has different attributes that make them the most used, the decision of which one to use will depend on the needs you have for your Web Site.
Of course you can! One of our goals is to give you a manageable website in which you don't have to depend on a Webmaster for content updates, for this we will deliver a 40 minutes video-training.
Undoubtedly this is one of the biggest concerns of all those who already have their website but the results are not as expected. The first thing you should keep in mind when hiring a website creation service is that it is delivered with the basic optimization so that the website can be crawled by Google robots. It is important to clarify that the Web Designer or Web Developer will not be able to guarantee the first positions in the search results, since this work is done by an SEO Consultant with organic positioning strategies.